Step 1 – STOP further payforit charges from the same source.
If you are receiving text messages like those above, you need to stop them to avoid further charges.  Don't ignore them. Don't waste time at this stage arguing with your network. They won't take responsibility and are unlikely to help you. You need to take action to prevent further unauthorised charges to your account. The best way to do this is by sending a STOP message to the shortcode number responsible for the subscription.
In the example above it is necessary to text STOP or STOP ALL to 83463 to prevent further charges to your account. 'STOP ALL'  should stop all services on the given shortcode. This can be useful if you have, or think you might have, been signed up to more than one service.
You need to be sure to send the STOP message to the shortcode number in the subscription text. This text should be charged at your standard network rate. You should receive a confirmation text to confirm that you have been unsubscribed. Keep these texts until the whole matter is satisfactorily resolved.
Alternatively there is normally a phone number which you can call at standard rates, or out of your bundled minutes. You will also find this in the subscription text. If you phone, record the conversation so that there can be no subsequent dispute about what was said.
The charge receipt comes from Payforit and looks like this: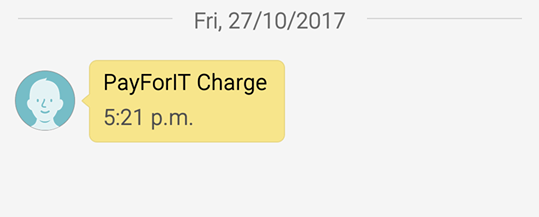 It is no use replying to this message, or indeed sending any message to Payforit.
Sometimes, all that is received is the Payforit receipt. In this case you need to identify the five digit number which is originating the charges.
What to do if you can't identify the originator of the charges
Try to approach the process in an organised and businesslike manner. Record calls and keep texts. Ask for written confirmation of anything agreed verbally. Most people get a full refund, but you do need to follow the process. You can rant all you like at your network, but the system makes it difficult for them to stop the charges. I agree that they could and should do much more, but if you delay in taking action yourself you will weaken your legal position.
If you're not clear what Payforit is, look here.
Stopped the texts? Time for Step 2 – try to get a refund.