by moog
Established Contributor
Re: Why is we allowing bounce mobi on their network? It is fraudulent company
‎19-10-2017 12:55 PM
This is not the fault of the customer so stop blaming us…. just stop it!
The reason why this forum is full of complaints about the following PMConnect services is that their payment pages are not secure and are being hacked:
These are the services offered exclusively against EE customers and presumably the ads that push to these pages are paid for and targetted accordingly… only EE customer are victims.
Here is the bounce games payment page: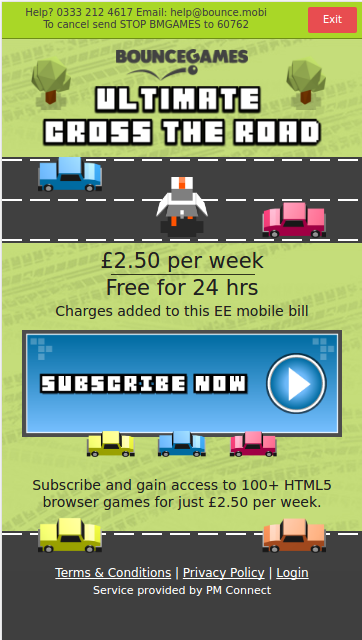 Unsecure non-HTTPS page
This page is non secured by HTTPS and so is wide open for hackers.
Notice the text "Charges added to this EE mobile bill".  This text is hard coded regardless of what type of connction or device is used… so the page has been designed to be used against EE customers to make payments against  EE accounts… this alone is very worrying.. why only EE.. Why are they not using PayforIt?
EE have for over two years denied  having an agreement with this company despite the fact that these service are designated in the PMConnect LTd terms and conditions as Mobile Portal Services" that according to Ofcom can only exist as a  relationship bewteen 3rd party and Network. All the other direct to bill service must use the heavily regulated( via PSA) PayforIt scheme.
Now there are two possiblities here:
EE are complicit and are using every trick in the book to deflect this issue.
EE are not complicit and are simply not addressing a very serious issue by sheer negligence and bullheadiness on the part of it's staff.. not our problem.
Regardless of the reason It is clear that EE accounts are being targetted by Malpractice of come sort against this companies insecure payment pages. EE can only be negligent if they do not at least invesigate and protect their customers.